About Jute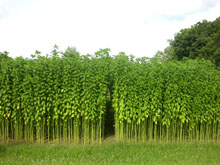 The jute plant is an annual plant that thrives best in moist soil in a hot, humid climate. Jute seeds are hand-sown and plants mature in three months, often averaging a height of 10 to 12 feet (3 to 3.6 meters). Their light green leaves are arrow-shaped and small yellow flowers bloom singly or in clusters. Jute is classified scientifically in the genus Corchorus.
The plants are harvested when the blossoms first begin to shed. The cut stalks are sorted out according to length and gathered into bundles. They are then placed in shallow pools of stagnant water where they are allowed to rot or ferment. When they have became soft enough, the fibres are separated from the stalks and then hung on lines to dry. After drying, the fibers are sorted, graded, and baled for exports.
Burlap, low-grade twine, and many other products are made from jute. Because of low-priced and adaptable, jute is the second only to cotton in world consumption of natural fibres.
Bangladesh, India, China are the major producers of Jute. Bangladesh is the world's leading exporters of Raw Jute and Jute products. Jute and Juts goods produced in Bangladesh are the best and cheapest in the world, because of congenial climatic condition. In Bangladesh jute is called the golden fibres.
In the environment conscious world today, the golden fibre has proved to be immensely popular. It is biodegradable and, therefore, environment friendly. The products merge with the soil after sustained use. In turn, it enriches the soil with organic substance and helps to grow better crops. On combustion, its fumes are non-toxic and produce no residue. JRP (Jute Reinforced plastic) is widely used to pack tea and fruits especially for its excellent 'breathing qualities'. It effectively packs Garments, Cement, Fertilizers and other products as well. Geo-jute has been developed to control erosion on mountain slopes, canal banks and railway sidings. It also helps vegetation to grow – naturally. Jute has also proved to be the ideal replacement of wood.
Bangladesh jute sector comprised of the govt. owned Jute mills and a large number of decentralized units, has now reached the stage of producing the materials, which are not only durable but also attractive from the aesthetic sense. Numerous end-uses have been found for the golden fibre to meet the requirements of the connoisseurs.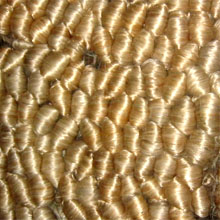 Jute Bags/Jute Sacks/Gunny Bags have been widely used for packaging of various commodities viz. Cereals, Cashew nuts, Ground nuts, Pea nuts, Cotton, Palm Kernels, Gum Arabic, Coffee beans, Cocoa beans, Rice, Paddy, Wheat, Maize, Copra, Lentils, Sugar, Cement, Fertilizers etc.
Jute goods have been produced in the Jute mills by treating the Raw Jute with both mineral oil (hydro carbon) as well as vegetable oil (hydro carbon free/food grade).
The array of products now being manufactured from jute are endless. From fine silk, finished fabrics, versatile furnishings to intricately designed oriental carpets – jute makes them all.
Moulded furniture, Wall Hangings, Swing Chairs, Flower Pot Holders, Tea Coasters, Mats, Blankets, Slippers, Shopping Bags, Bead Curtains, Dolls, Soft Luggage, Briefcases, Skirts, Jackets, Lamp Shades, Floor Runners, Panels, Boards and a whole lot more. Inexpensive & Aesthetic.
The products are ideal for homes, offices and public places.